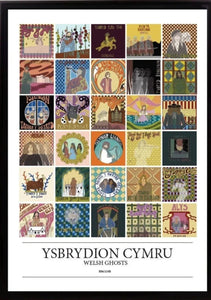 Print o waith Efa Lois - poster cyfoes o'r enw 'Ysbrydion Cymru', sy'n cynnwys 30 darlun o ysbrydion o chwedlau Cymreig.
Mae'r print yn faint A2 (594mm x 420mm), ac wedi'i argraffu ar bapur 250gsm sidan. Nifer cyfyngedig o'r printiau hyn sydd ar gael, ac maent oll wedi'u rhifo
This listing is for an Efa Lois print - a contemporary Welsh print titled 'Welsh Ghosts', which includes illustrations of 30 ghosts from Welsh folklore illustrated by Efa Lois.
The print is an A2 size (594mm x 420mm), and is printed on 250gsm silk paper. These prints are limited edition, and each print is numbered.