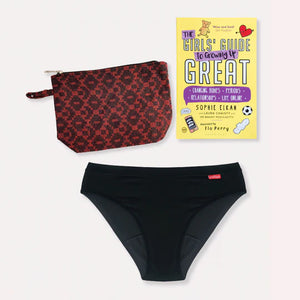 This first period starter kit was created to ensure a stress free start to periods. We believe that periods should hold no teen or tweens back from achieving great things in life. It should be celebrated with pride.
First period kit pack has everything your teen/tweens need to start their period with confidence.
What's inside?
💪🏽  Our underwear will give your child confidence in lessons or sports. Our period pants will guarantee: 
No stress

No leaks

No odour
Our award-winning period pants have an absorbent layer that can hold up to 3 tampons' worth of flow.