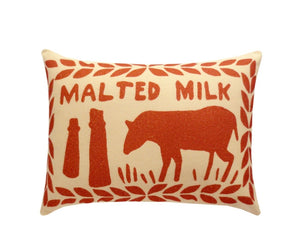 What could be better than a great big huggable biscuit?
Deliciously Malty and perfect for dunking in an ice-cold glass of milk- the Malted Milk has never been better with it's recent edition of a coating of chocolate on one side!
If Malted Milk biscuits are your favourite tea time treat, then this is the perfect cushion for you and your home!
--

🍪 Playful & Bold design by Nikki McWilliams
🍪 30 x 40cm in size
🍪 Printed in the UK & Handmade  in Scotland
🍪 100% Cotton in biscuit with a rich chocolate brown reverse
🍪 Covers fasten on the reverse with a concealed zip